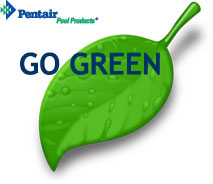 "There is no doubt that you will save money and energy with the installation of a multi-speed energy efficient pump. Proper programming, installation and setting customized speeds on a seasonal basis will assure your biggest return."
Call West Coast Pools for a FREE Consultation &
Energy Audit today!
SAVE 90% On Your Utility Bill
These "intelligent" pumps can cut the pool portion of utility bills up to 90%, saving you hundreds of dollars per year and thousands over its life.
IntelliFlo® VF High Performance Pump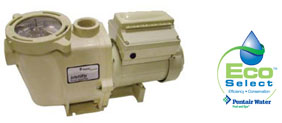 IntelliFlo® VF High Performance Pump is the world's smartest swimming pool pump. Its onboard computer and intelligent software automatically calculate and program the minimum flow requirements for every pool task - filtering, heating, cleaning, spa jets, water features and more - to optimize performance and minimize energy use. As functions/tasks change, IntelliFlo self-adjusts to maintain optimal flow rates for further energy savings.
Testimonials
I am saving over $2,000 per year after West Coast Pools replaced 2 old pumps with 2 Pentair IntelliFlo Multi-speed pumps for me. – Vahee, RSF
After Chris with West Coast Pools installed the new pump for me, I saved over $100 on my SDG&E bill. Thanks Chris! – Joanne, Carlsbad
The technicians at West Coast Pools were very professional and knowledgeable. After the installation of the pump was complete they took the time to explain to me how the pump was programmed and customized to my needs.
– Dana, Solana Beach
FEATURES
Automatically monitors and adjusts flow rates to optimize performance and minimize energy use - reduces energy consumption by up to 90%
Built-in diagnostics protect the IntelliFlo pump from the most common causes of premature failure - loss of prime, overheating, freezing and voltage irregularities
Permanent magnet motor and TEFC (totally enclosed fan cooled) design assure quietest operation of any pool pump
Super-efficient permanent magnet motors produce far less heat and vibration, resulting in less stress and wear on pump components for longer life
Compatible with IntelliTouch®, EasyTouch® and SunTouch® pool control systems
CE Certified, NSF Certified, UL and CSA Listed
Robust On Board Power Factor Correction